Religious Education
RE has a high profile in school, driven by senior leaders and in partnership with the Diocese of Leeds.
Within the framework of the law and the Agreed Syllabus, the aims in RE at Bedale Church of England Primary School are for pupils to:
Acquire and develop knowledge and understanding of Christianity and the other principal religions represented in the United Kingdom;

Develop an understanding of the influence of religious and non-religious worldviews, values and traditions on individuals, communities, societies and cultures, locally, nationally and globally;

Develop the ability to make reasoned and informed judgements about religious and more issues, with reference to the teachings and diversity within religious and non-religious worldviews represented in the United Kingdom;

Enhance their spiritual, moral, social and cultural development by:
Developing awareness of the fundamental questions of life raised by human experiences, and of how religious teachings and other beliefs can relate to them;

Responding to such questions with reference to the teachings and practises of religions and worldviews relating to them to their own understanding and experience;

Reflecting on their own beliefs, values and experiences in the light of their study;
Develop positive attitudes of respect towards other people who hold views and beliefs different from their own, and towards living in a society of diverse religions and worldviews.

To develop an understanding of the role of the bible for Christians and Jesus' teaching (Matthew 14, Mark 6, Luke 9) "He (Jesus) told them stories. He taught them about the love of God"
RE Visits
In February 2022, Year 3 had a visit from Reverend Gareth. He talked to us about what prayer is.
We listened to Rev. Gareth's thoughts and we suggested some excellent theories and thoughts .
"You don't have to believe in God to prayer" – Bella
"Praying can be done anywhere" - Grace
"Prayer is categorized into ask, hope or thank" – Katie
"To pray for others and for those who cannot pray themselves" – Travis
"Praying is like having a conversation with God" – Reverend Gareth
We learnt that you might feel like praying at any moment. Reading passages from the Bible or simply having a feeling inside is like praying. Reverend Gareth told us that he prayers for lots of people around the world and closer to his life like family and friends.
In November 2021, year five enjoyed interviewing Reverend Simon and Reverend Gareth as part the half-term's RE topic. The children came up with some difficult questions for them to answer about their faith which will be very useful in helping us answer the question: 'Who is God?'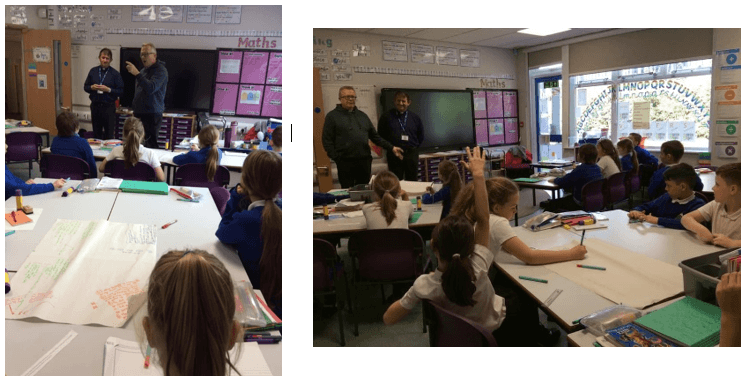 In October 2021, Year 4 we had a wonderful visit from Indri and Krishna from the Hindu Education Service who came to teach us all about Hinduism . The children had a wonderful time learning about the powerful Hindu deities and dressing in the beautiful, traditional Hindu clothing. They learnt to dance with sticks and act along to some fascinating stories.

Year 6 were fortunate to be taught by Imran Kotwal (from the Muslim Learners' Service) during one of our lessons in the Autumn term, 2021. He came to help us understand the Ummah and how important it is for Muslims to be part of this global community. He managed to enhance our understanding of each of the 5 pillars of Islam, helping us to understand how each was part and parcel of daily life - we were particularly interested in Zakat and the Ummah as this linked to our Autumn term RE topic. Imran was an inspirational teacher who helped the subject come alive, to be real. We all enjoyed his lesson and took away a new understanding and appreciation of life as a British Muslim.