British Values
Throughout the school we promote the values of tolerance, respect and responsibilities amongst others, helping to prepare our children for life in modern Britain. On this page you can read more about some of the ways we do this.
Tolerance of Other Faiths and Beliefs
We have close links to the local churches, have daily Collective Worships which explain Christian festivals as well as significant events in the years of other faiths. We regularly support charities and people in need including communities in India, through the Friends of Mettupalayam (click here), as well as promoting understanding of other faiths and beliefs throughout the curriculu from dedicated RE lessons through Geography, History and multicultural stories through English lessons. Recently our children have chosen to donate money raised from our annual Fun Run to the One Love Manchester charity.
Last year, Year 1 and 2 had a visit from Rosie and Frances from Friends of Mettupalayam to talk about the weather there. They told lots of different facts about how their weather is different to ours and how it affects their lives. The children loved to listen to all their stories it was great to learn new things.
"We found out that when the monsoon comes it can be heard from over a mile away." JL
"When it gets too hot they take their beds and go to sleep on the roof as it is cooler up there." KW
"They need the rain to help their crops grow, they have build wells and lakes to save the water and they use it to water their land and crops." JB
They even gave an assembly on it the following day to share our new facts with the rest of the school. Towards the end of the Autumn term, 2016, our children from the sewing club presented Rosie and Francis with a blanket to take to our friends in Mettupalayam after Christmas.


In the Summer term of 2017, we were delighted to invite Rosie and Frances back to school. They talked about the typical school day in Mettupalayam as well as updating us on their latest work, including medical improvements and musical workshops. We are looking forward to welcoming Venkat and his daughter in July 2017, when we will be presenting him with some resources made by the children to take out to India.

We have been visited by Imran Kotwal, who joined us for collective worship as well as workshops teaching us about traditional costume and the five pillars of Islam.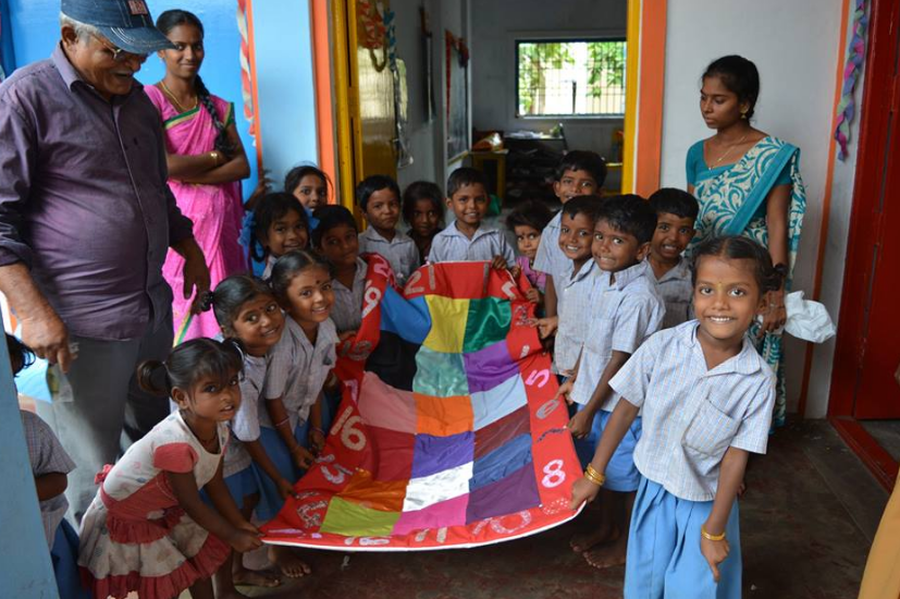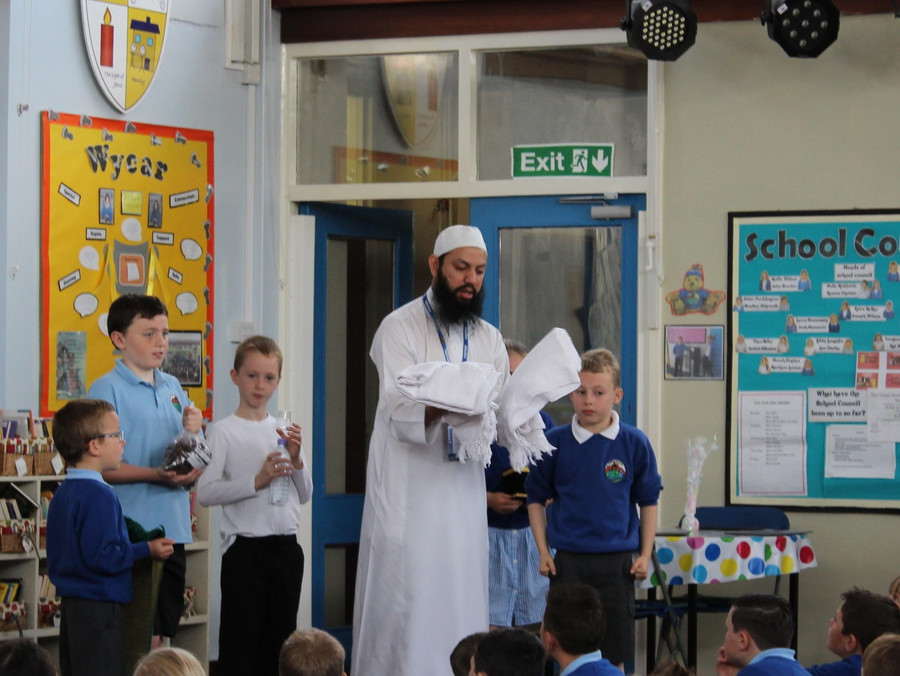 Individual Responsibility and Liberty
We give our pupils a range of responsibilities and jobs around school from personal responsibilities like remembering to bring in homework, reading books and PE kits through to classroom responsibilities and whole-school responsibilities like helping with school dinners and our KS2 children helping the children on our KS1 playground. We also have a well-established house system (with termly rewards for the house with the most merits) with House Captains, as well as Sports Captains and a Head Boy and Head Girl. The house captains lead house worship sessions while the sports captains are involved in selecting and coaching sports teams taking part in inter-school tournaments. Each class has two school council representatives, with our Year Six pupils working alongside teachers to run the school council. We also have peer mentors who help other children with the support of staff and our Digital Leaders have helped support teachers in their lessons as well as leading assemblies and sessions for pupils in other year groups, such as during Safer Internet Day. Our Reading Ambassadors have also taught sessions across the school, sharing books and working on tasks together.
Throughout the year, we encourage the children to use the local facilities and get involved in local activities, including promoting sports events and courses (e.g. Wensleydale Rugby, Bedale Juniors, Bedale Cricket Club) and using facilities like the Bedale library through the summer reading challenges.
During Summer 2016, we celebrated the Queen's 90th birthday with a series of events and work in class. You can read about this by clicking the cake below:

During Spring 2017 we have been involved in two local arts projects, working with the artists involved with the sculpture for the newly-built Bedale bypass roundabout (click here) as well as helping to design some artwork to go in the centre of Bedale linked to the heritage of the local area and what the town means to our pupils. During Summer 2017, the pupils of year five and six worked independently to organise and lead our annual Fun Run including dozens of stalls positioned around our school field, raising hundreds of pounds for charity.
Mutual Respect
We promote mutual respect for others throughout everything we do in and out of school, including: a range of visitors to school sharing their experiences such as PCSOs, fire officers, military police and other local professionals; financial workshops; parents with specific knowledge linked to topic areas; daily collective worship and candle time for quiet reflection; a consistent school behaviour policy including merits reward system; a Code of Conduct for our sports teams and welcoming parents to our school for regular open afternoons.
We regularly work with and welcome pupils and staff from the local community, including hosting sports and GAT maths events, local nurseries coming to our performances and a recent shared residential visit to Edinburgh.
We have an active Military Kids Club group that not only works on activities and meetings within school but in the community as well. Last year, our Year 4, 5, and 6 HMS Heroes visited Phoenix House in Catterick Garrison. While we were there we enjoyed finding out how the centre supports and rehabilitates the Armed Forces and their families through fitness, diet, therapies and counselling. We found out about an anti-gravity treadmill and lots of other specialist equipment in the gym, Toby even got to sit in an recumbent bicycle! There is also a woodwork shop, an art room and a games room with lots of gaming chairs and two football tables!

At the end of our visit, we met the mascot; he had to duck down to get through the door because he was so tall! The children all decided that it was a 'fascinating', 'interesting', 'fun' and 'exciting' visit and were very grateful to all concerned at the centre for organising and giving up their time to make it such a fabulous afternoon. A huge thank you from Mrs Turnbull to both Mrs Howard and Mrs Taylor for all their hard work in organising these events.
In summer term 2017, MKC children enjoyed making balloon models and had great fun in rounders. They are also having a mini-sporting event and a summer party at the end of term.
More about Military Kids Club from Mrs Thorpe:
My first term taking Military Kids Club has been a lot of fun; it has been great to get to know the children and for us all to feel comfortable, as we are doing activities, to open up and chat about their life as service children whenever they feel the need to do so. The club is for children who have parents who are either currently serving, or who have served in the armed forces.
Activities in Autumn 2017 included: Scavenger Hunt, Outdoor Games, Film Night, Toasting Marshmallows on the Bonfire (many thanks to Mrs Pike for a wonder time), and Decorating Christmas Biscuits. We were also asked to contribute to a display for the Remembrance Service at Ripon Cathedral; the children transformed a bicycle wheel into a fabulous poppy. A group of service children were taken to Ripon Cathedral to take part in the service.
This term (Spring 2018) we have a fun program too: Games Night, Arts and Crafts, Film and popcorn evening, Scavenger Hunt, Easter Sweet Making.
Rule of Law
We have visits from our local PCSOs as well as North Yorkshire Fire and Rescue service to discuss road safety, fireworks and bonfire night, e-safety and other aspects of the law. We have had visits and talks from local construction firms who have been working in the area including Jacobs with their Beyond Zero campaign and Wills Bros. Our Year Six pupils also attend Crucial Crew each year and have the opportunity to take part in Bikeability training to help them understand the rules of the road.
We also discuss how the rules in school relate to rules and laws in the wider-world, including the importance of following and the consequences for breaking these laws.
Each class follows the school rules have have their own "Class Charter" of rules, created and agreed by the children at the start of the year, which are displayed in every room along with rewards and consequences.
Democracy
In school we have a "Bedale Ballot Box" that the children use to vote on various topics during the year, including the end-of-term house treat, competitions such as Autumn's scarecrow contest and which films are shown at the FSG film night. We also discuss local and national elections and what they mean for the way the country is run. Each class also votes for their School Council and Eco Warriors and Year 5 and 6 pupils vote for next year's Head Boy and Head Girl. Classes discuss issues they would like their school council representative to raise at school council meetings and have a say in decisions around the school, including which charity we should raise money for and improvements to the environment such as the water coolers installed last year.

The children in EYFS got into the voting spirit during Summer term on Referedum day by holding their own ballot. As part of their topic on The Queen and London, the children learnt about the Houses of Parliament and thought about how and why laws are made. As a reward for all their hard work the children secretly voted for the treat of their choice. They could choose from; an extended playtime, a show and tell session or an extra snack time treat. The votes were counted and verified and the children enjoyed their extra playtime the following day.

In Summer 2017, our Y6 debating team represented the school at the North Yorkshire debating competition at County Hall, Northallerton. We were very proud to hear their understanding and empathy helped to win them the title of North Yorkshire Champions.
Throughout 2016-17 our pupils have been involved in planning a new spiritual area on the back playground. This has included deciding which elements they would like to include. As part of this process, the whole school visited the Yorkshire Sculpture Park to help give inspiration.
We have also voted on various parts of school life such as: which books to buy for our library; house treats; which charities to support; school council representatives.
Click the image below to see a larger version of our British Values "Web"